---
15 years in a row of 4-star rating
---
2023-2024 Theme: Create Hope in the World
---
2022-2023 Theme: Imagine
---
2021-2022 Theme: Serve to Change Lives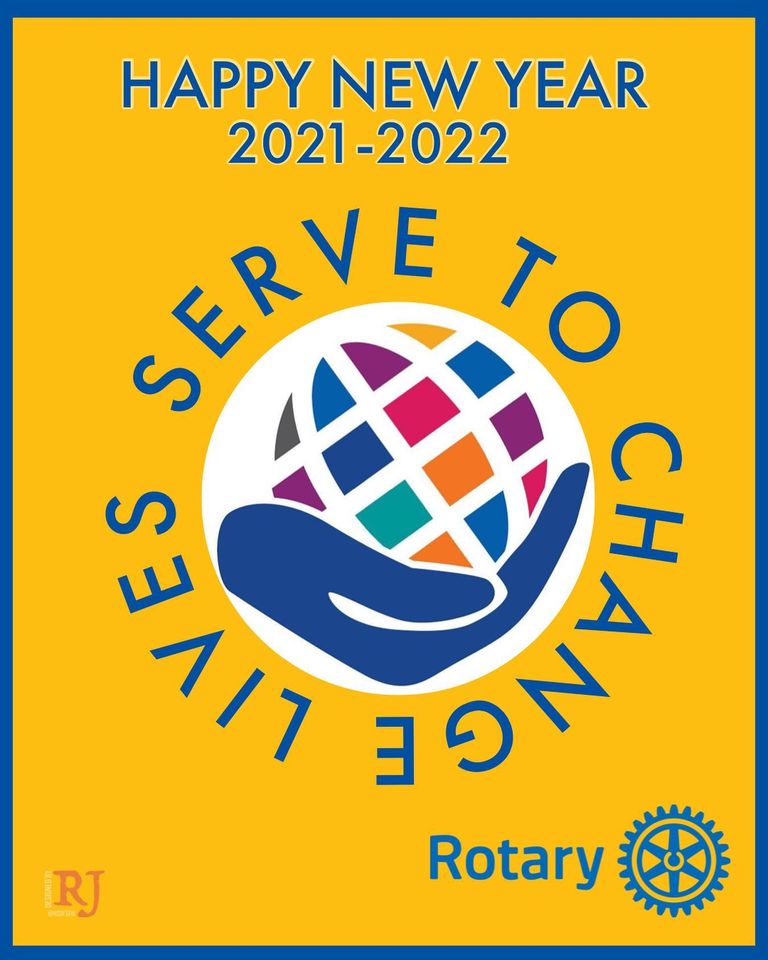 ---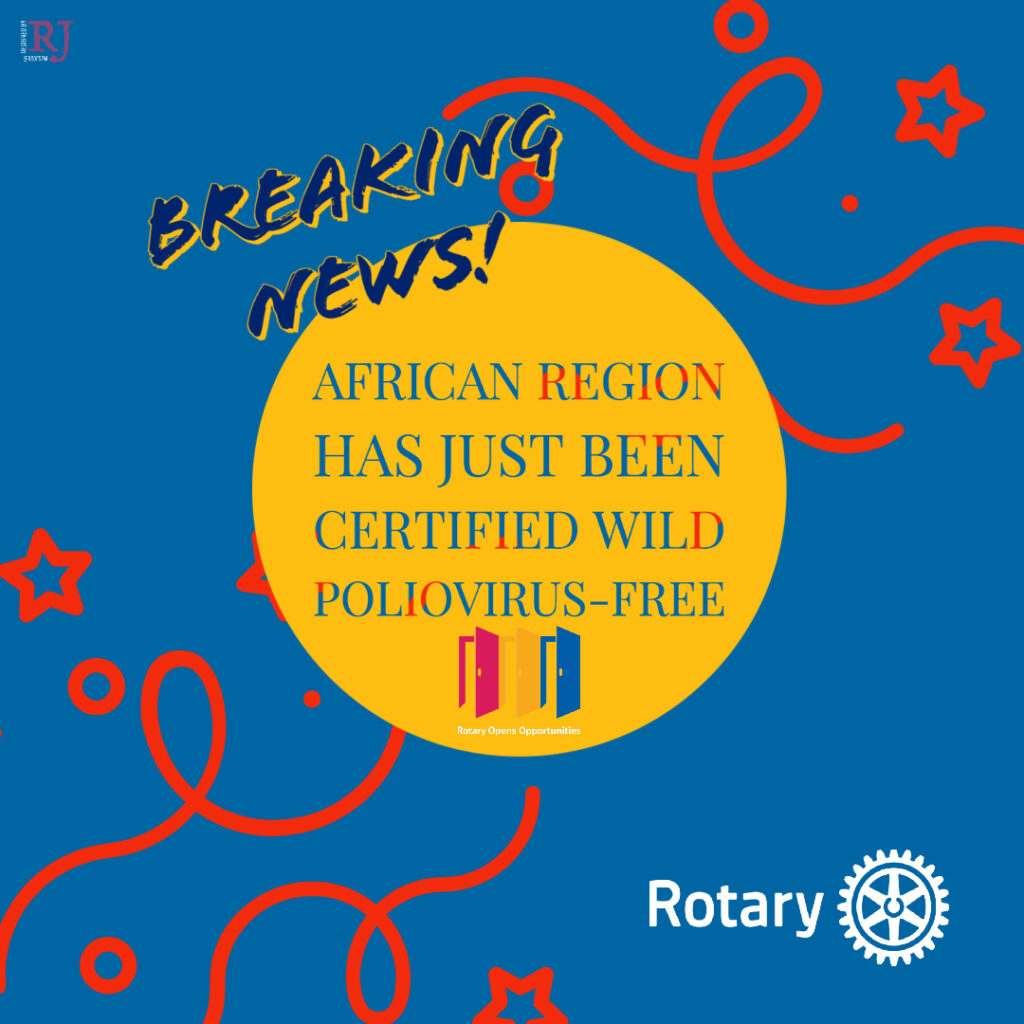 African region declared free of wild poliovirus
Rotary members have played an invaluable role in the effort to rid the African region of wild polio. We should be proud of all the hard work that we've done to eliminate the wild poliovirus throughout Africa and in nearly every country in the world.
This progress is the result of a decades-long effort across the 47 countries of the African region. It has involved millions of health workers traveling by foot, boat, bike and bus, innovative strategies to vaccinate children amid conflict and insecurity, and a huge disease surveillance network to test cases of paralysis and check sewage for the virus.
Over the last two decades, countless Rotary members in countries across the African region and around the world have worked together to raise funds, immunize children, advocate with local and national leaders, and raise awareness about the importance of vaccination, enabling the Global Polio Eradication Initiative (GPEI) to effectively respond to and stop polio outbreaks.
This milestone is an incredible public health achievement for Rotary members, the African region, and our GPEI partners, and a huge step forward on the road to global polio eradication. But we still have important work to do in order to eradicate wild polio in the last two endemic countries.
We have faced many challenges in our journey to eradicate polio. But we've made remarkable progress, and the polio infrastructure that Rotarians helped build will serve as a lasting legacy that will continue to help protect vulnerable children against other diseases for decades to come.
We are calling on you today to recommit yourselves to ending polio. We need each and every one of you to help finish this fight and continue raising $50 million each year for PolioPlus. The eradication of wild polio in the African region shows us that polio eradication is achievable, and shows how our hard work, partnerships and financial commitment continue to propel us forward, even during a global pandemic.
---
First Woman RI President in 2022-2023
---
Rotary Opens Opportunities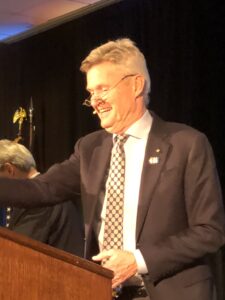 Holger Knaack, a member of the Rotary Club of Herzogtum Lauenburg-Mölln, Germany, has been selected to serve as president of Rotary International in 2020-21.
The Nominating Committee's decision follows the resignation last month of President-nominee Sushil Gupta due to health reasons. Knaack will officially become president-nominee if no other candidates challenge him by 31 May.
To build a stronger membership, Knaack says Rotary must focus on increasing the number of female members and transitioning Rotaractors into Rotarians.
Knaack believes that the People of Action campaign offers new public awareness possibilities for Rotary. "This campaign conveys our global image while still respecting differences in regions and cultures," he says.
A Rotary member since 1992, Knaack has served Rotary as treasurer, director, moderator, member and chair of several committees, representative for the Council on Legislation, zone coordinator, training leader, and district governor.
He is an endowment/major gifts adviser and co-chair of the Host Organization Committee for the 2019 Rotary International Convention in Hamburg.
Knaack is the CEO of Knaack KG, a real estate company. He was previously a partner and general manager of Knaack Enterprises, a 125-year-old family business.
He is a founding member of the Civic Foundation of the City of Ratzeburg and served as president of the Golf-Club Gut Grambek. Knaack is also the founder and chair of the Karl Adam Foundation.
Knaack and his wife, Susanne, are Major Donors to The Rotary Foundation and members of the Bequest Society.
The members of the Nominating Committee for the 2020-21 President of Rotary International are Kazuhiko Ozawa, Rotary Club of Yokosuka, Kanagawa, Japan; Manoj D. Desai, Rotary Club of Baroda Metro, Gujarat, India; Shekhar Mehta, Rotary Club of Calcutta-Mahanagar, West Bengal, India; John G. Thorne, Rotary Club of North Hobart, Tasmania, Australia; Guiller E. Tumangan, Rotary Club of Makati West, Makati City, Philippines; Juin Park, Rotary Club of Suncheon, Jeonranam, Korea; Elio Cerini, Rotary Club of Milano Duomo, Italy; Gideon M. Peiper, Rotary Club of Ramat Hasharon, Israel; Per Høyen, Rotary Club of Aarup, Denmark; Paul Knijff, Rotary Club of Weesp (Vechtstreek-Noord), Netherlands; Sam Okudzeto, Rotary Club of Accra, Ghana; José Ubiracy Silva, Rotary Club of Recife, Pernambuco, Brazil; Bradford R. Howard, Rotary Club of Oakland Uptown, California, USA; Michael D. McCullough, Rotary Club of Trenton, Michigan, USA; Karen K. Wentz, Rotary Club of Maryville, Tennessee, USA; Michael K. McGovern, Rotary Club of South Portland-Cape Elizabeth, Maine, USA; and John C. Smarge, Rotary Club of Naples, Florida, USA.
---
New Area of Focus: Supporting the Environment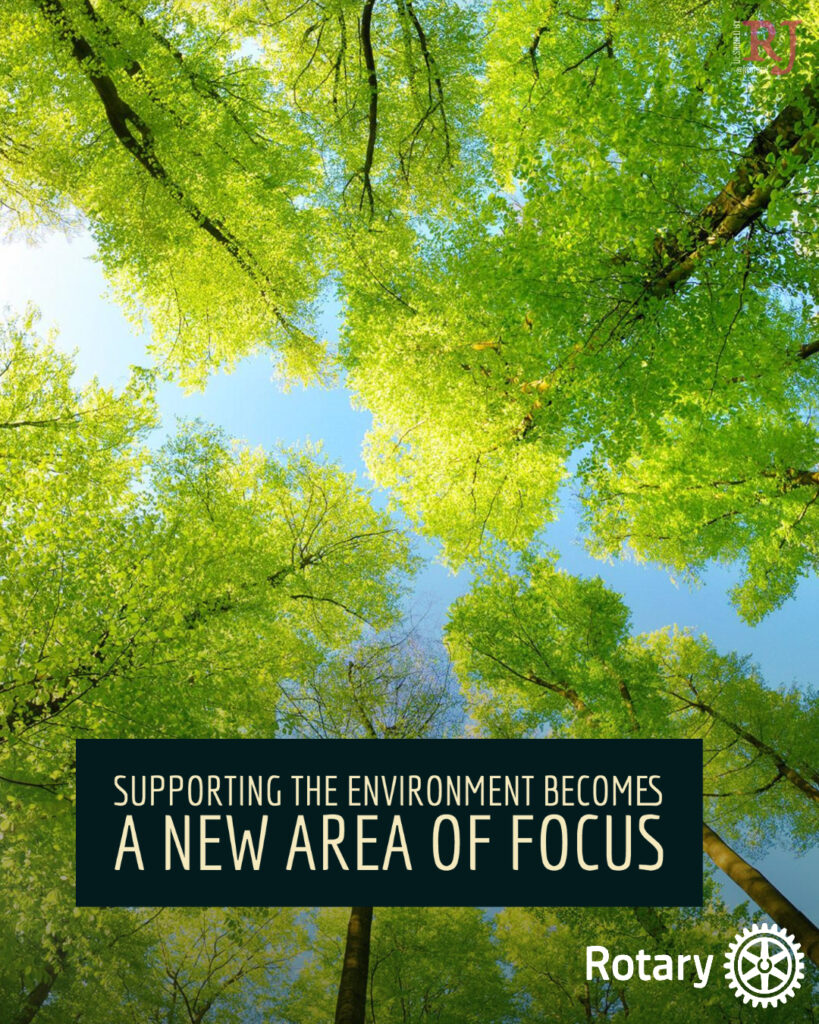 The Rotary Foundation Trustees and Rotary International Board of Directors have both unanimously approved adding a new area of focus: supporting the environment.
More than $18 million in Foundation global grant funding has been allocated to environment-related projects over the past five years. Creating a distinct area of focus to support the environment will give Rotary members even more ways to bring about positive change in the world and increase our impact.
Supporting the environment becomes Rotary's seventh area of focus, which are categories of service activities supported by global grants. It joins peacebuilding and conflict prevention; disease prevention and treatment; water, sanitation, and hygiene; maternal and child health; basic education and literacy; and community economic development.
---
First Virtual RI Convention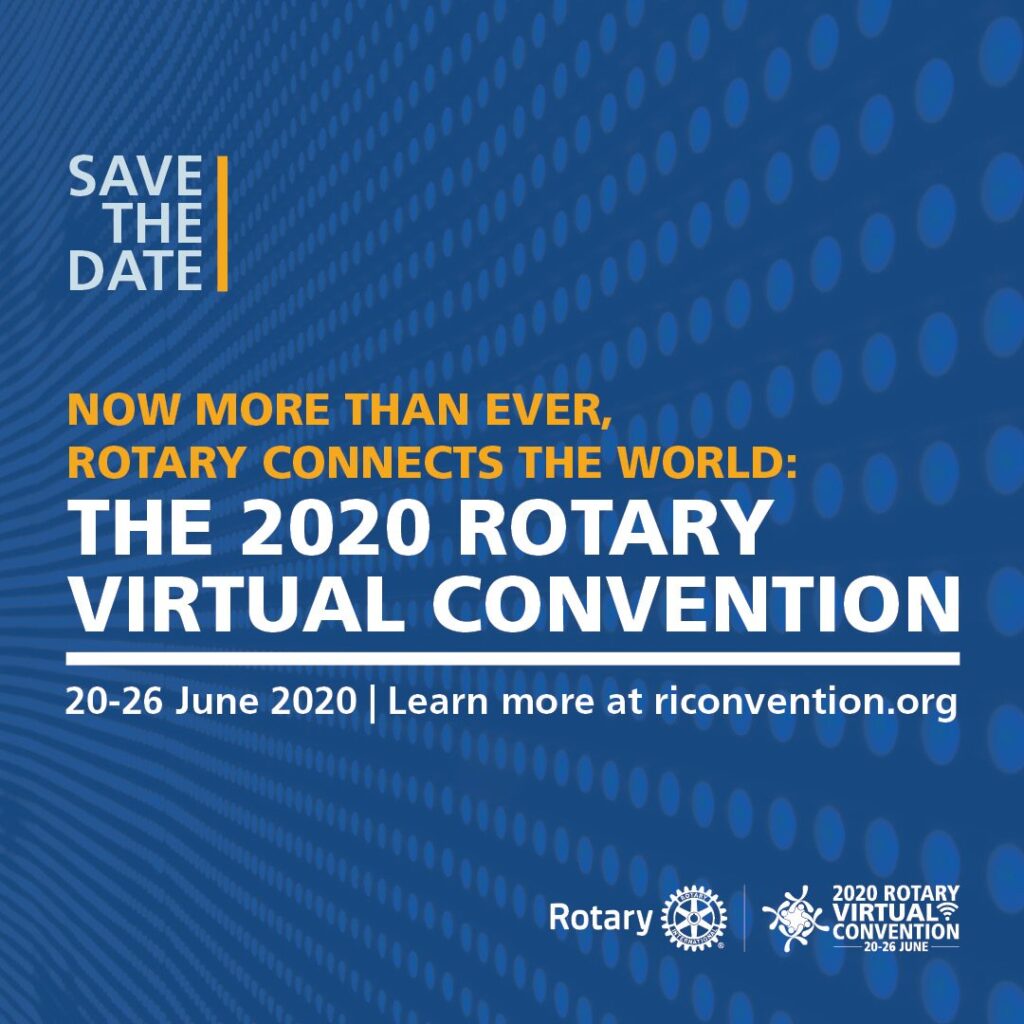 Join the family of Rotary at our first ever Virtual Rotary Convention. This free event will connect Rotary participants from around the world, inspire through innovation, and celebrate our resilience and ability to adapt. More information coming soon!
---
RI Convention Cancelled due to Corona Virus
---
Bill Gates Interview about Rotary Partnership against Polio
Why Bill Gates Partners With Rotary To Eradicate Polio
Rotary Foundation receives the highest rating from Charity Navigator for 12th consecutive year
The Foundation earned the recognition for demonstrating both strong financial health and commitment to accountability and transparency. Only one percent of the organization's Charity Navigator evaluates have received 12 consecutive 4-star evaluations.
"Attaining a 4-star rating verifies that The Rotary Foundation exceeds industry standards and outperforms most charities in your area of work", says Michael Thatcher, president and chief executive officer of Charity Navigator. "This exceptional designation sets the Foundation apart from its peers and demonstrates to the public its trustworthiness."
The rating reflects Charity Navigator's assessment of how the Foundation uses donations, sustains its programs and services, and practices good governance and openness.
---
---
Shekhar Mehta of India selected to be 2021-22 Rotary International President
Shekhar Mehta, of the Rotary Club of Calcutta-Mahanagar, West Bengal, India, is the selection of the Nominating Committee for President of Rotary International for 2021-22.
Shekhar Mehta, of the Rotary Club of Calcutta-Mahanagar, West Bengal, India, is the selection of the Nominating Committee for President of Rotary International for 2021-22. He will be declared the president-nominee on 1 October if no challenging candidates have been suggested.
Mehta acknowledges that current membership trends are a challenge and says that membership development should be Rotary's highest priority. He believes that focusing on regional plans, successfully transitioning Rotaractors into Rotary clubs, and increasing diversity and female members could yield a 5 percent net growth in membership each year.
"A major brainstorming is needed to find effective solutions suited to different areas of the world," says Mehta. He adds that regional ethos and culture have to be taken into account to find localized solutions, as "one size does not fit all." He believes Rotary can extend to new geographical areas and countries.
As a strong proponent of Rotary's strategic plan, Mehta says he will encourage clubs to use action plans and reinforce the core values of Rotary.
Mehta says Rotary needs to become more contemporary and adaptable by focusing on partnerships with governments and corporations, expanding partnerships with organizations that specialize in Rotary's areas of focus, and investing in technology.
Mehta, an accountant, is chair of the Skyline Group, a real estate development company he founded. He is also a director of Operation Eyesight Universal (India), a Canada-based organization.
Mehta has been actively involved in disaster response and is a trustee of ShelterBox, UK. After the 2004 Indian Ocean tsunami, he helped build nearly 500 homes for families affected by the disaster.
Mehta pioneered a program that has performed more than 1,500 life-changing heart surgeries in South Asia. He is also the architect of the TEACH Program, which promotes literacy throughout India and has reached thousands of schools.
A Rotary member since 1984, Mehta has served Rotary as director, member or chair of several committees, zone coordinator, training leader, member of The Rotary Foundation Cadre of Technical Advisers, and district governor. He is also the chair of Rotary Foundation (India).
Mehta has received Rotary's Service Above Self Award and The Rotary Foundation's Citation for Meritorious Service and Distinguished Service Awards.
He and his wife, Rashi, are Major Donors and members of the Bequest Society.
---
I want to help Rotary
Please let me be a part of this wonderful organization. I