Our Charter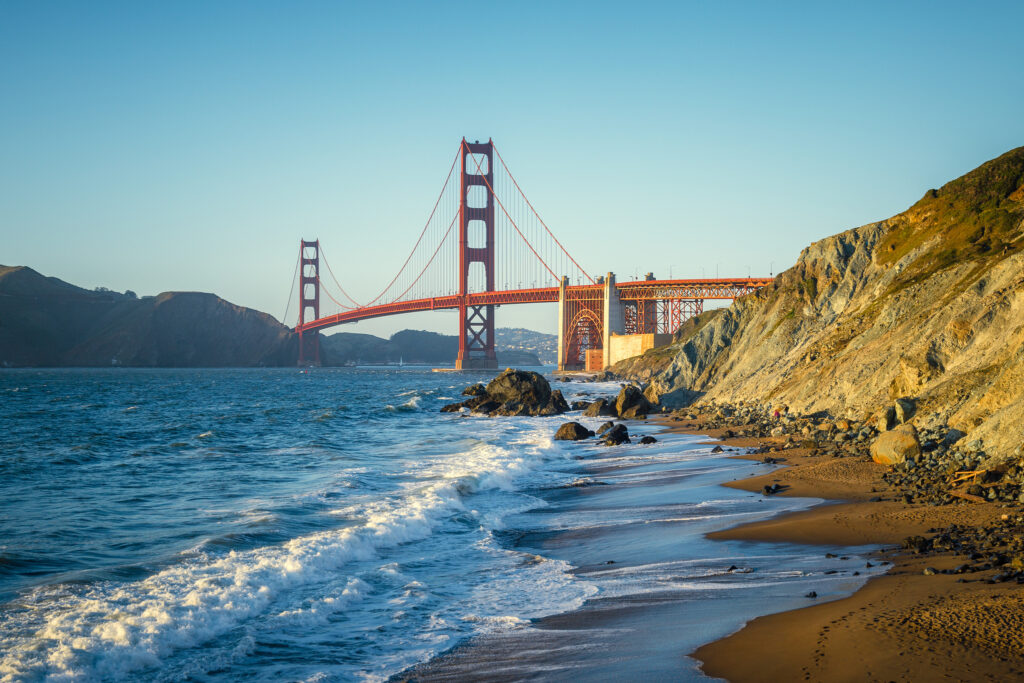 San Francisco West. Where the City Meets the Ocean
Founded on October 26, 1984, we are a small but diverse group of like-minded and service-focused community leaders from various backgrounds making a difference and taking action in our community, in the world, and in ourselves. Our motto is "Serving Families and Children to Inspire Peace". Our domain is the scenic Western part of San Francisco. We meet every second Thursday morning from 7:30 AM to 8:30 AM at Crepes on Cole, located at 100 Carl Street which is at the corner of Cole and Carl Streets. It is in a very convenient location in the heart of Cole Valley. We have received numerous club accolades including the coveted: "best small club" title in the world. We have recently been involved with a water decontamination project in Bangladesh with Chemists Without Borders and the local Rotary Club in Chittagong, Bangladesh concentrating on the removal of Arsenic from the drinking water. Please send us a message if you have any questions or if you feel you are interested in becoming a prospective member.
---
Mission Statement:
The mission of the Rotary Club of San Francisco West is to serve and inspire our local community and international partners by creating service opportunities for ourselves and others as expressed in the Rotary Four-Way Test.
In the things we think, say, or do
1. Is it the TRUTH?
2. Is it FAIR to all concerned?
3. Will it build GOODWILL and BETTER FRIENDSHIPS?
4. Will it be BENEFICIAL to all concerned?
---
Club Motto and Logo: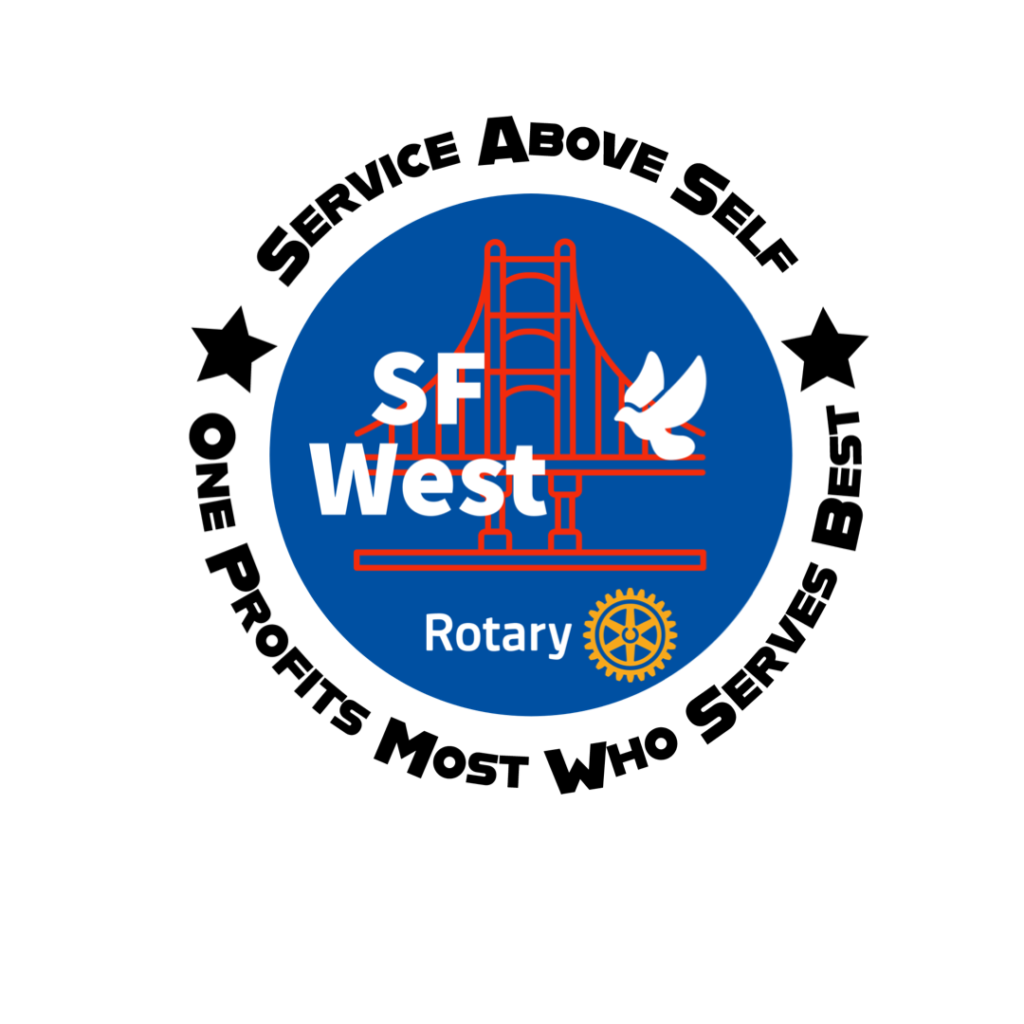 "Serving Families and Children to Inspire Peace"
---
President's Welcome Message:
Happy New Rotary Year 2023-24!
Welcome to our website! We are happy that you are checking us out. We hope that you find our website inspirational as well as useful. When we launched this website about 4 years ago, our goals were to INCREASE OUR IMPACT, EXPAND OUR REACH, ENGAGE OUR MEMBERS, AND BE ADAPTABLE TO CHANGE in the community and the world. And we have.
This is my third time being the president of our club. It has been as exciting as it was the first time. The first time was about 8 years ago, and the second time in 2020, was due to the President-Nominee at that time couldn't continue his obligation due to a family emergency so I happily stepped up to the plate to cover. It was at the height of COVID and we had to ADAPT TO THE CHANGING WORLD and make the necessary adjustments to be able to do what we had to do to be viable. This year, we are EXPANDING OUR REACH and also ENGAGE OUR MEMBERS to be able to dedicate our commitment to the community.
WE BECAME ADAPTABLE TO CHANGE. The last couple of years have been challenging for our club. COVID has been the biggest obstacle for a lot of our members. We lost a few of our members due to relocation. We had to find a way to continue to meet. Our old venue stopped serving breakfast which meant that we had to change our beautiful venue. We had to start meeting virtually through ZOOM. It was very difficult to train our older members and attendance dropped significantly. However, there was a silver lining! We were able to attract foreign Rotary visitors and speakers as well. What we lacked in membership attendance was compensated by the number of guest visitors we received. We couldn't have done this without the support of our Rotary followers.
Our Social Media presence has grown significantly well. We have over 12K Facebook, 1,473 Instagram, and 1,434 Twitter followers who constantly comment, share, and like our posts. We want to take this opportunity to thank you all!
This year, we are wrapping up our Bangladesh Global Grant WASH (Water, Sanitation, & Hygiene) project. This project evolved as well and is currently under construction. Like our club, we had to adapt because of COVID. What started as a speaker presentation of arsenic poisoning in the Himalayas turned into an action project involving Chemists without Borders and a local Rotary Club in Chittagong, Bangladesh as partners in "doing good in the world".
We will continue TO INCREASE OUR IMPACT by doing our regular yearly projects such as Thanksgiving Dinner delivery, Teddy Bear collection, Cooking Breakfast for Edgewood, Supporting the Environment, Animal/Pet Care and Welfare, and other worthwhile causes and perhaps more collaboration with other San Francisco Rotary Clubs even outside Rotary like the Lions, or Kiwanis if we get a chance.  Should you know an organization that is interested in similar activities, please let us know.
Our biggest challenge right now is EXPANDING OUR REACH. To expand our reach, we need more members. It seems people are busier than ever before. We are looking forward to increasing our memberships through our mentor/buddy system where we partner our prospective candidate with a buddy so that the prospective candidate isn't lost or overwhelmed by the mentor who can address the prospect's questions and concerns.
This year's theme is "CREATE HOPE IN THE WORLD". We hope that you can join us and if you're inspired by our website, please feel free to drop a comment or even DONATE! We would like to hear from you.
Thanks again for visiting our website. Thank you for your support.
Sincerely,
Robert Jocson
President, RCofSFW (Rotary Club of San Francisco West)
---
Meet the Board Members: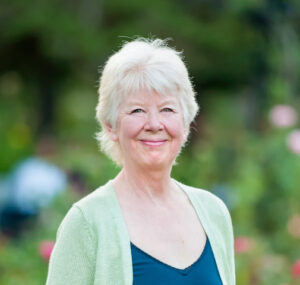 ---
Our Members
We are a very diverse group of community leaders from various backgrounds. We unite to make a difference within our communities, across the globe, in our place of work, and in ourselves. We are passionate about giving back to the community and at the same time also have fun doing it. What we value are Service, Integrity, Leadership, Fellowship, and Diversity.
Our Venue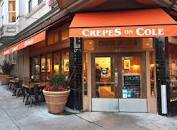 Crepes on Cole
100 Carl Street (Corner of Cole), SF CA 94117. We meet every 2nd Thursday of the month from 7:30 AM to 8:30 AM
---
---
Highlights of our Service Projects
Our club projects vary and depend on what the community needs. The International Service project is The Bangladesh WASH project which consists of providing safe, drinkable water, Sanitation, and Hygiene education to the Chittagong Community in Bangladesh. We also provide Thanksgiving dinner to about 40 families in the underserved immigrant community in SF, Backpacks and school supplies for children in homeless shelters, Teddy Bears for comforting children under the foster care of the SF Family Services Administration, Toys for Children under the care of SF HSA, Providing Towels, Toys, and Blanket for our furry friends under the care of SF Animal Care and Control, and Cleaning up our landscape in SF to name just a few projects.
---